Be a Tobacco Control Advocate: Communicate with New York State Legislators
The battle against tobacco has not been won. You can express the need to continue tobacco control efforts in New York State and your support of Tobacco Free Communities' initiatives by communicating with your representatives in the New York State Legislature. You have several options to consider:
Visit your legislator(s) in his/her Albany and/or district office to discuss tobacco issues
Write and send a letter
Write and send an e-mail message
Write and send a fax
Call and discuss the tobacco issues that you care about
In whatever way you choose to communicate, remember the following:
When writing a letter be sure to open with a salutation (i.e. Dear Senator, Dear Assemblyman) and end it with a complimentary close (i.e. Sincerely, Sincerely yours,).
Be original. While you may use a few talking points from tobacco control sources, express your concerns in your own words to make the most impact with elected officials.
Stay brief. The maximum length of a letter or email should be one (1) page.
Introduce yourself and outline no more than three (3) main points about the tobacco topic(s) about which you are concerned.
Personalize your message. Share personal stories and examples to show how tobacco issue(s) affect you, your family and your community.
Be respectful and polite even if you do not see eye-to-eye on tobacco issue(s). Do not use profanity.
Include your address in your signature, even in email messages.
Thank your legislative representative when he/she supports initiatives involving your tobacco concern(s).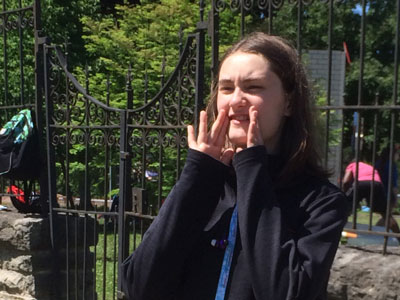 NYS Senate Chair of Standing Committee on Health
Senator Gustavo Rivera
Capitol, Room 502C
Albany, NY 12247
Phone: 518-455-3395
E-mail: grivera@nysenate.gov
NYS Assembly Chair of Standing Committee on Health
NYS Legislators Representing Delaware, Otsego and Schoharie Counties
Senator Jen Metzger  – Senate District 42 (Includes Delaware County towns of Colchester, Delhi, Hamden, Masonville, Tompkins and Walton)
District Office
201 Dolson Ave. Suite F
Middletown, NY 10940
Phone: 845-344-3311
Albany Office
LOB 817
Albany, NY 12247
Phone: 518-455-2400
E-mail: metzger@nysenate.gov
Senator James L. Seward – Senate District 51 (Includes Delaware County towns of Andes, Bovina, Davenport, Franklin, Harpersfield, Kortright, Meredith, Middletown, Roxbury, Sidney and Stamford; Otsego County: All towns; Schoharie County: All towns)
District Office (Main)
41 South Main Street
Oneonta, NY 13820
Phone: 607-432-5524
Albany Office
172 State Street
Room 430, Capitol
Albany, NY 12247
Phone: 518-455-3131
E-mail: seward@nysenate.gov
Senator Fred Akshar – Senate District 52 (Includes Delaware County towns of Deposit and Hancock)
District Office
44 Hawley Street
Room 1607
Binghamton, NY 13901
Phone: 607-773-8771
Fax: 607-773-3688
Albany Office
LOB 805
Albany, NY 12247
Phone: 518-455-2677
Fax: 518-426-6720
E-mail: akshar@nysenate.gov
Assemblyman Clifford Crouch – Assembly District 122 (Includes Delaware County towns of Colchester, Deposit, Downsville, Franklin, Hancock, Masonville, Sidney, Tompkins and Walton and Otsego County towns of Butternuts, Morris and Unadilla)
District Office
1 Kattelville Road
Suite 1
Binghamton, NY 13901
Phone: 607-648-6080
Albany Office
LOB 450
Albany, NY 12248
Phone: 518-455-5741
E-mail: CrouchC@nyassembly.gov
Assemblyman Chris Tague – Assembly District 102 (Includes Delaware County towns of Harpersfield, Kortright, Middletown, Roxbury and Stamford; Otsego County towns of Cherry Valley, Decatur, Roseboom and Worcester; and Schoharie County: All towns)
District Office
113 Park Place, Suite 6
Schoharie, NY 12157
Phone: 518-295-7250
Albany Office
LOB 937
Albany, NY 12248
Phone: 518-455-5363
E-mail: taguec@nyassembly.gov
Assemblyman John Salka – Assembly District 121 (Includes Otsego County towns of Burlington, Edmeston, Exeter, Hartwick, Laurens, Milford, New Lisbon, Oneonta, Otego, Otsego, Pittsfield, Plainfield, Richfield and City of Oneonta)
District Office
214 Farrier Avenue
Oneida, NY 13421
Phone: 315-361-4125
District Office
Oneonta Phone: 607-432-1484
Albany Office
LOB 529
Albany, NY 12248
Phone: 518-455-4807
E-mail: salkaj@nyassembly.gov
Assemblyman Brian Miller – Assembly District 101 (Includes Delaware County towns of Andes, Bovina, Davenport, Delhi, Hamden and Meredith and Otsego County towns of Maryland, Middlefield, Springfield and Westford)
District Office
4747 Middle Settlement Road
PO Box 627
New Hartford, NY 13413
Phone: 315-736-3879
Fax: 315-736-3947
Albany Office
LOB 544
Albany, NY 12248
Phone: 518-455-5334
E-mail: millerb@nyassembly.gov