PARKS & RECREATIONAL AREAS
Parks, playgrounds, and recreational areas should be places where everyone can breathe clean air. Even in outdoor settings, secondhand smoke (SHS) levels can reach levels as high as those found in indoor facilities where smoking is permitted. Exposure to secondhand smoke is especially harmful to children and adults with asthma, immune-compromised systems, and respiratory afflictions, including COVID-19.
Parks and outdoor recreational areas with tobacco-free policies:
Protect people from the harmful effects of secondhand smoke and aerosol exposure
Reduce damaging and dangerous tobacco-related litter
Promote positive, healthy lifestyle role modeling for children and teens
Help reduce facility expenses by reducing tobacco-related litter
Eliminate environmental cues to use tobacco products
Promote outdoor areas as healthy, safe places for youth, adults and families to enjoy
Recognize that communities support tobacco-free outdoor areas.
OVER 500 MUNICIPALITIES HAVE GONE TOBACCO FREE
NYS Public Health Law prohibits tobacco use in all playgrounds when one or more children under age 12 are present. Local municipalities have the authority to expand the law's provisions to include all park property or additional specific areas such as sport fields, swimming pools, and beaches. More than 500 municipalities in New York State have made some or all of their public outdoor areas tobacco-free!

HOW CAN WE HELP?
TFC-DOS can provide hands-on help to municipalities located in Delaware, Otsego, and Schoharie counties through:
Telephone, email or in-person technical assistance, including presentations or information sessions
Sample policies, sample outreach materials, and suggested timelines
No-cost tobacco-free signage for parks and other municipal properties
Whether you're a local lawmaker or private citizen, we're here to help. Contact Jennifer Hill at Jennifer.Hill003@sphp.com.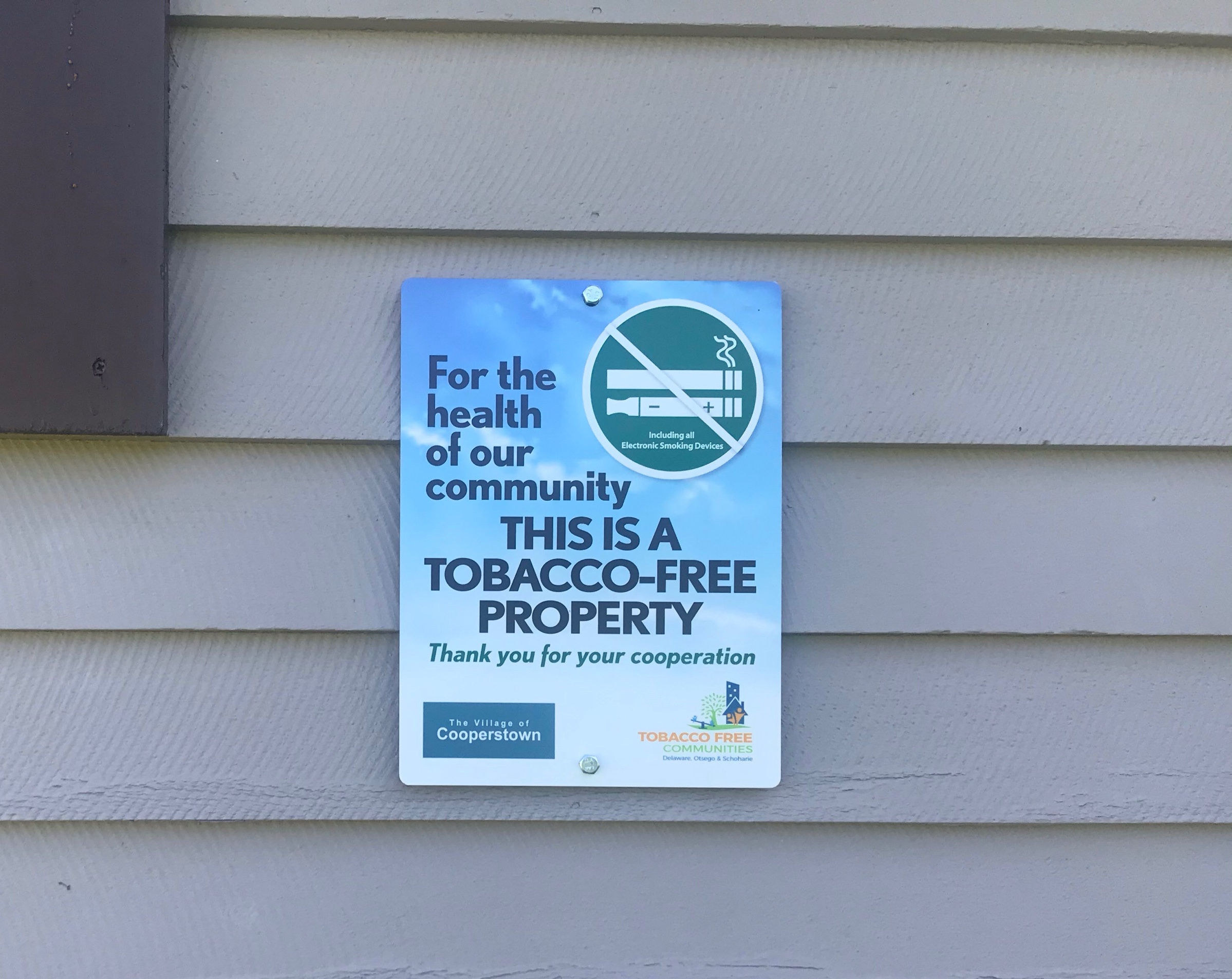 Sign provided to Cooperstown (Otsego County)