New York State Media Campaign to Raise Awareness of the Impact of Menthol-Flavored Tobacco on African Americans
NYS has launched the media campaign "It's Not Just" which exposes the tobacco industry's intentional efforts to increase menthol product appeal to the African American community.
You can help!
Follow us on Facebook and Twitter and share our posts on personal and organizational social media. Share the It's Not Just campaign on social media as well.
Personal stories that are honest and emotionally compelling can make significant contributions to public health education. If you or someone you know has a story to tell, we invite you to share it with us and explore ways to use your personal experience to help mobilize change.
Do you belong to a congregation, service group or youth group that would like to learn more about the impact of menthol on the African American community? We can tailor a conversation or presentation to meet your group's needs, including facilitated screenings of  Black Lives, Black Lungs, a 15-minute film documenting Big Tobacco's 50+ year campaign to transform menthol into a "black cigarette."
Do you prefer hard copies of materials to share with others? We can provide handouts, posters, and more to help you spread the word.
Learn more about the history of menthol marketing to the African American community below.
Looking for another way to get involved? Let us know. We'd be happy to partner in whatever way we can.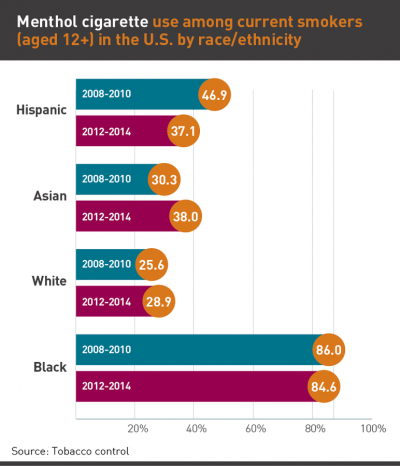 Menthol makes it easier to start and harder to quit
The disproportionate impact of tobacco use on African Americans is indisputable. Tobacco use contributes to the three leading causes of death among African Americans: heart disease, cancer and stroke. Blacks smoke fewer cigarettes on average and start smoking later than whites, yet are more likely to die of tobacco-related diseases. A significant contributor to these health disparities is menthol: Nearly 90 percent of African American smokers smoke menthol cigarettes, compared with 29 percent of white smokers.
A 2013 U.S. Food and Drug Administration report shows that the cooling and anesthetic effect of menthol allows smokers to inhale more deeply and hold the smoke in the lungs longer. As a result, menthol smokers show higher levels of nicotine addiction and decreased success quitting than non-menthol smokers, leading the NAACP to recommend that the FDA ban menthol in cigarettes.
50+ Years of the tobacco industry aggressively marketing menthol to the Black Community 
The documentary, Black Lives, Black Lungs, explores the history, marketing tactics and impact of the tobacco industry targeting African Americans with menthol products. It documents what Dr. Phil Gardiner, Founding Member and Co-Chair of the African American Tobacco Leadership Council, refers to as the tobacco industry's "African Americanization of Menthol."
In 1953, only 5 percent of African American smokers used menthol. Today, nearly 9 in 10 Black smokers do. Evidence of the tobacco industry's continued efforts can be found locally. Predominantly Black neighborhoods have more tobacco retailers per capita, more ads, more menthol, and higher smoking rates.